HIV Care Round
Sexualized Drug Use, Psychosis, ADHD and Other Issues
Among Patients Who Use Crystal Meth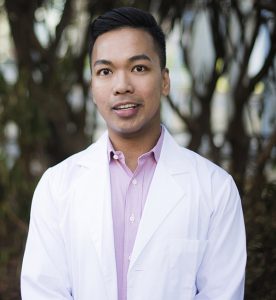 Dr. Julius Elefante
Psychiatrist, Providence Health Care
Where: Conference Room 8, Providence Building Level 1, St. Paul's Hospital
When: Wednesday, September 12, 2018, 12-1 PM
The HIV Care Rounds are free and are geared towards the needs and interests of health care providers and support workers of HIV-positive individuals.
A light lunch will be served.
This 1-credit-per-hour Group Learning program has been certified by the College of Family Physicians of Canada
and the British Columbia Chapter for up to 1 Mainpro+ credit

Dr. Julius Elefante received his medical degree from the University of British Columbia in 2012, completed a fellowship in Addiction Medicine in June 2016 at Saint Paul's Hospital, and a research post doctoral fellowship at Johns Hopkins University School of Medicine in Baltimore in 2016. He completed his residency in Psychiatry at UBC in 2017. Before medicine, he worked as a registered nurse for seven years at Saint Paul's Hospital (10C) and the BC Centre for Disease Control.
At Saint Paul's Hospital, he works in consultation-liaison, which is the branch of psychiatry that interfaces with other medical specialties, provides psychiatric care for patients at the Immunodeficiency Clinic and Rapid Access Addiction Clinic, and practices emergency and acute psychiatry. At Vancouver General Hospital, he is a consultant for the Complex Pain and Addiction Service. He is actively involved in undergraduate medical education as well as the postgraduate psychiatry residency at UBC.
---
For more information about upcoming events, please click here.