JUNE 30TH – Next Community Forum!
RSVP is required. Contact Shelly at 604 893 2239 or email shellyt@positivelivingbc.org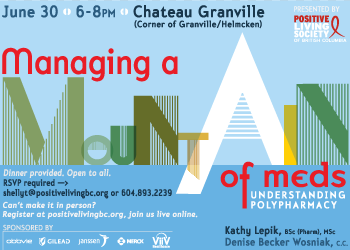 "Managing a Mountain of Meds – Understanding Polypharmacy"
Guest Speakers:
Kathy Lepik, BSc (Pham) MSc,
Denise Becker Wozniak, CC
Details:
Date: Tuesday June 30th
Time: 6 – 8 pm
Location: Chateau Granville ( Granville at Helmeken)
RSVP is required. Contact Shelly at 604 893 2239 or email shellyt@positivelivingbc.org
When the pill count starts to climb – for multiple conditions not limited to HIV – what does med management look like? How can you better manage what seems like "a mountain of meds." This forum will present considerations, options and general important things to know about including; drug interaction monitoring, the implications of stopping or changing dosage, and how to deal with symptom management. Join us for a big picture look at understanding the implications of "polypharmacy" in your medication management.
If you can't join us live in person, please join us live via webinar. To register go to www.positivelivingbc.org
Please note: RSVP is required. Contact Shelly at 604 893 2239 or email shellyt@positivelivingbc.org
This event is free and open to all persons to attend!