Forefront Lecture
Long-Term Outcomes for Patients Receiving Antiretroviral Therapy in Uganda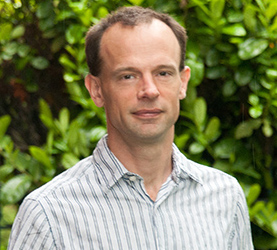 David Moore, MD
Research Scientist, BC Centre for Excellence in HIV/AIDS
Associate Professor, Department of Medicine, Division of AIDS, UBC
When:  Tuesday, February 12th, 12:00 – 1:00 PM
Where: Cullen Lecture Theatre (SPH 1477), Providence Building Level 1, St. Paul's Hospital
This free lecture series is geared towards researchers, clinicians, students and hospital staff; however, the public and other interested stakeholders are welcome and encouraged to attend.
A light lunch will be served

Dr. David Moore is a Research Scientist at the BC Centre for Excellence in HIV/AIDS, and an Associate Professor in the Department of Medicine, Division of AIDS at UBC. Dr. Moore conducts research related to HIV risk behaviour, substance use and biomedical and behavioiural interventions among men who have sex with men in BC. He is a co-PI of the Momentum Study, a longitudinal cohort of MSM in Vancouver. He is also a co-PI of a team of researchers and community partners implementing a study of HIV and MSM in Toronto, Montreal and Vancouver known as Engage. In addition, he conducts HIV research in Uganda along with partners at The AIDS Support Organisation, and the Uganda Virus Research Institute/ Medical Research Council (UK).


---
For more information about upcoming events, please click here.